✏️ UX Design
I use the complete Design Thinking process, a wide variety of tools, and different usability research methods to understand users.
👩‍🎨 UI Design
I can study brand identity and UI design and apply design systems. I can support the design process for a product, from the first to the last pixel.
🔍 Exploration
I have experience in analysis and exploration, designing different solutions to discuss with stakeholders .
♟ UX strategy
I can define the strategy and the process and the tools to use for design, research, and developer handoff.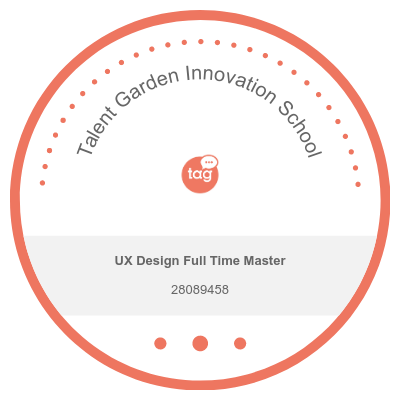 Education frame
Master's Degree in UX Design at Talent Garden Innovation School
I studied UX Design at Talent Garden Innovation School. During this time I gained in-depth experience in different quantitative and qualitative research methods, design thinking methods, and tools for digital design.
Some of the best digital agencies and companies I worked with.

Drop me a message
Let's share ideas & discuss ways to collaborate!