✏️ UX Design
I use the complete Design Thinking process and a wide variety of tools and different usability research methods to understand users.
👩‍🎨 UI Design
I can study the brand identity and UI design and applying design systems. I can support the design process for a product, from the first to the last pixel.
🧑🏻‍💻 Workshops
I have experience in planning and conducting UX workshops with a small group of people, such as design sprints, that help finalizing product vision.
♟ UX strategy
I can define the strategy about the process and the tools to use about design, research and developers hand off.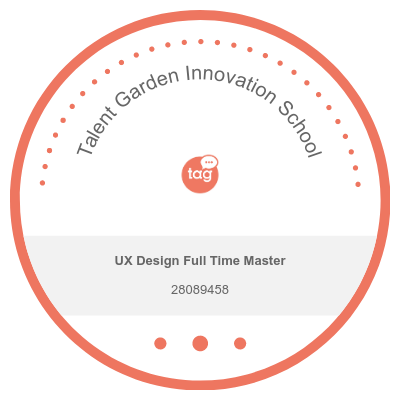 Education frame
Master's Degree in UX Design at Talent Garden Innovation School
I studied UX Design at Talent Garden Innovation School. During this time I gained in-depth experience in different quantitative and qualitative research methods, design thinking methods, and tools for digital design.
Some of the best digital agencies and companies I worked with.
Drop me a message
Let's share ideas & discuss ways to collaborate!