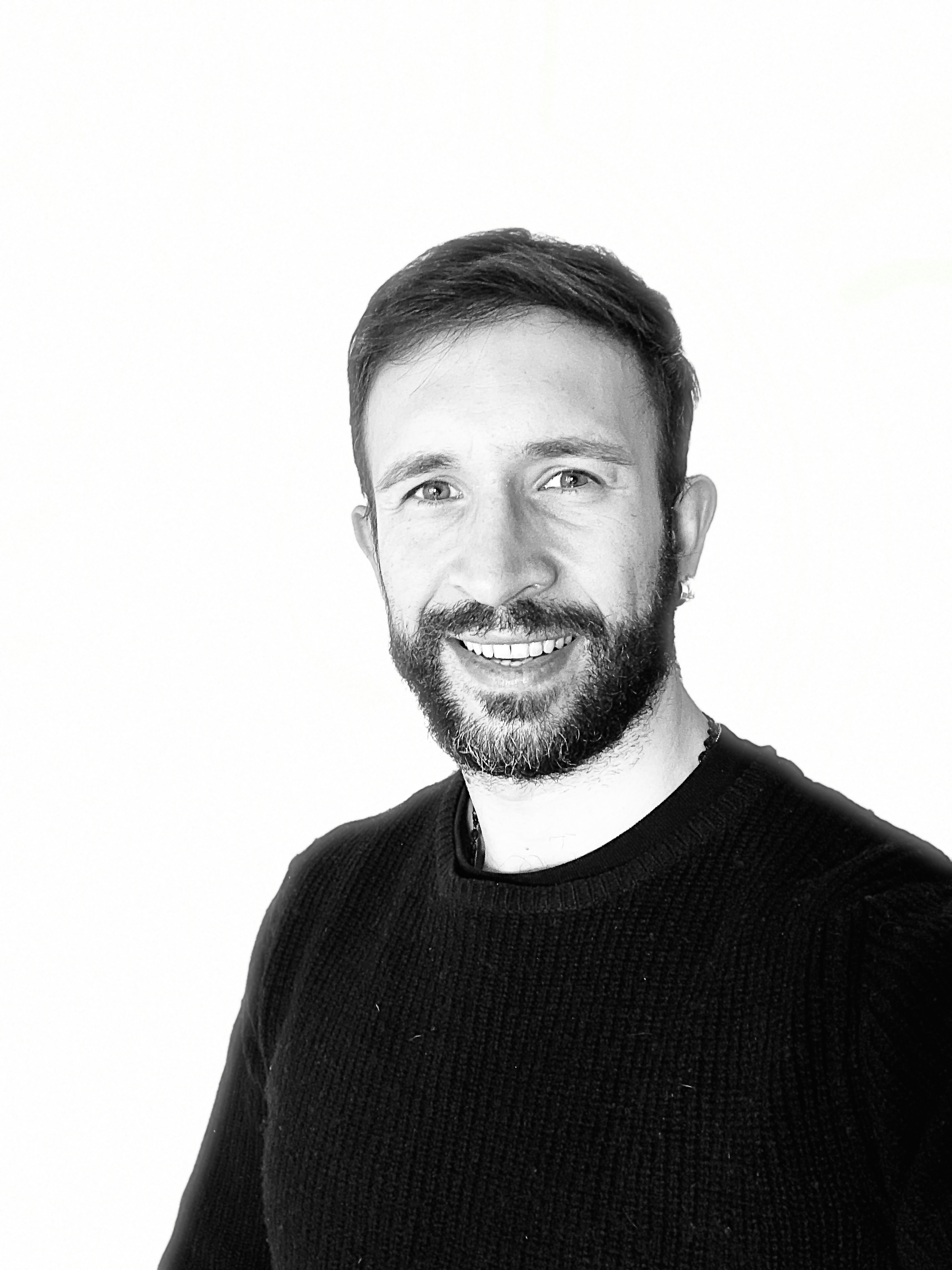 A smart way to rent house and match a new tenant
Designing a new way to search tenants & houses
Project Overview
Friends Home is a modern and simple to use discovery app to help people looking for rooms or houses for rent but also helps people looking for new roommates, just matching some simple information and characteristics.
The Role
Product Designer - Ux Specialist for Energy By Oscar
Setting
1 designer, 1 Product Owner, CEO, and CTO, 1 developer
Timeline
12 weeks
Designing to help users find their right match!
Problem overview
People have to primary concern looking for rooms or houses classically, using standard research methods. Most people eventually don't have time to search, and sometimes this way they can find a forced co-habit.
Difficulty to find the ideal tenant

Difficulty to find the ideal room or house

Difficulty to manage administrative docs and contracts
Based on these primary problems the UX must be as simple and save time as possible and automatize the flow of research.
I worked side by side with stakeholders to define a first attempt at the research.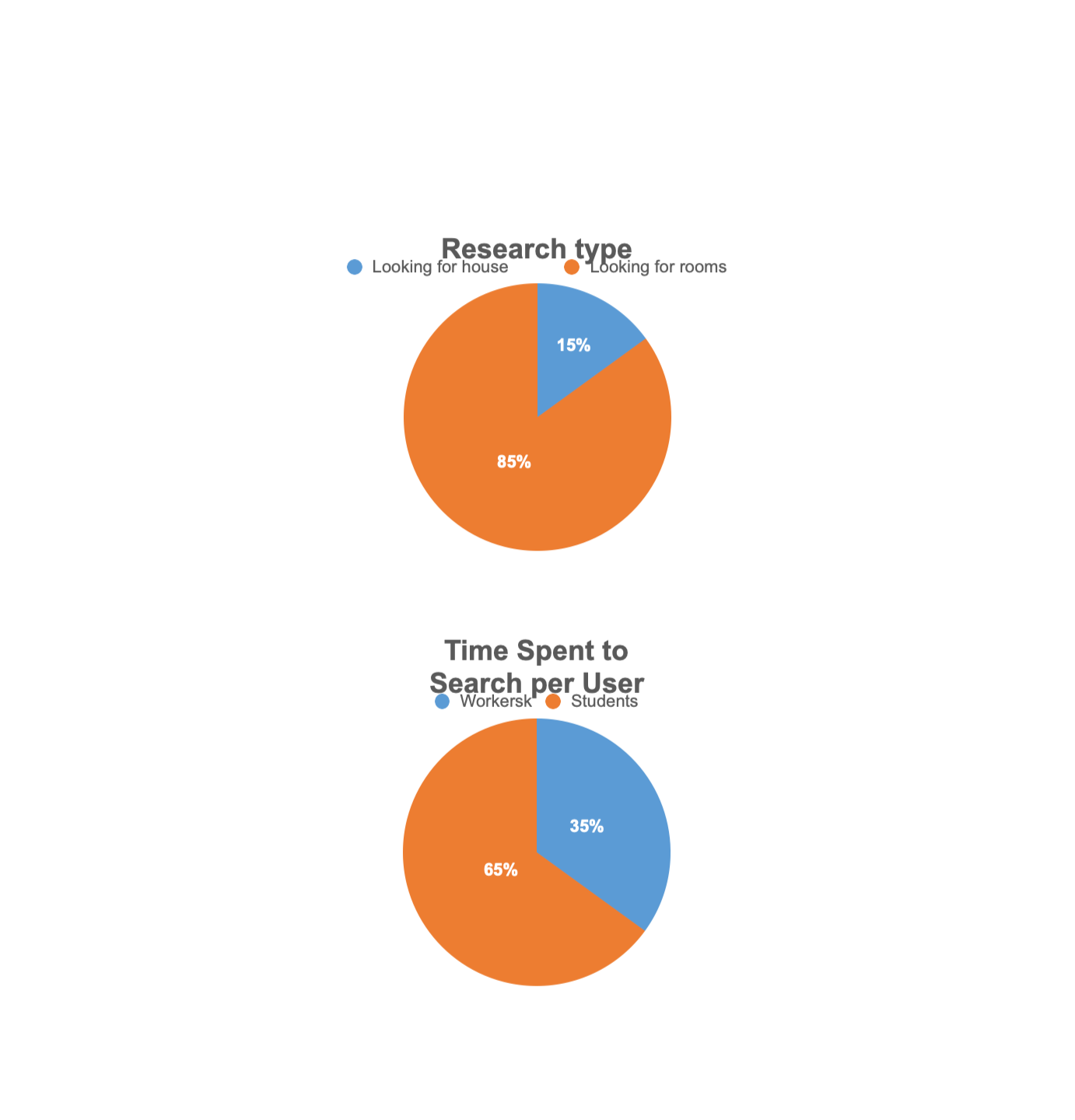 Surveys
Methodology and frameworks
I used Lean UX principles to develop the "Friends Home" solution, focusing on users and their needs at each phase of the design process:
Formulate and validate the hypothesis.

Conduct early user testing with low-fidelity wireframes to unveil pain points.

Externalise the work using Miro Board and the new FIGJAM board, Wireframes, and usability test results.
I conducted a brief workshop with stakeholders to analyze the research made by UX Research and try to create a User Journey, based on User Personas Created with stakeholders during a discovery Workshop online using FIGJAM. Based on this research the main result shows us that Italian searchers are students looking for rooms to cohabit, but also a huge part of workers spend a lot of time searching and sometimes finding wrong and forced co-living solutions.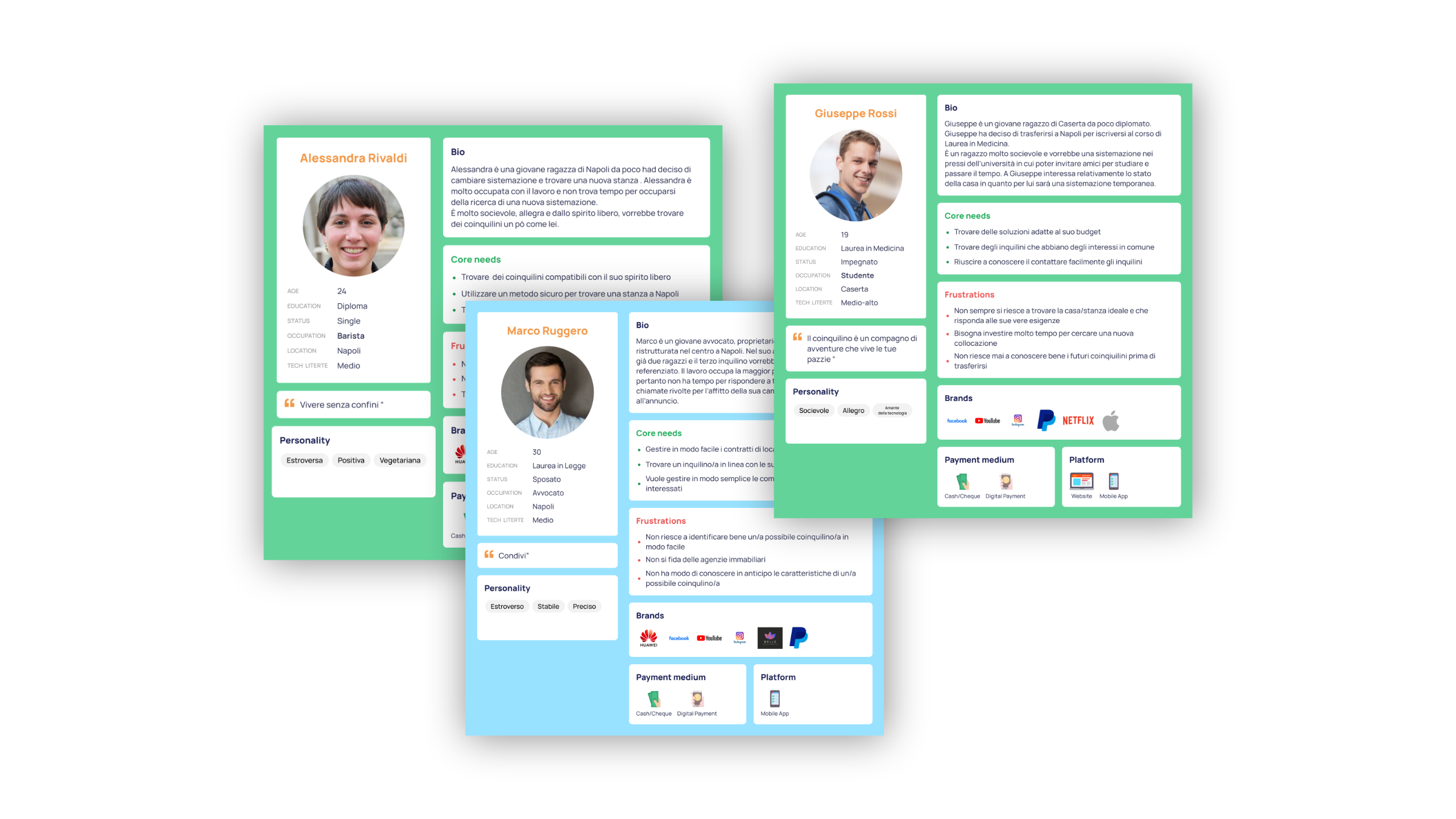 Personas
Who is the target of users?
Based on the user research I set up three personas referring to them throughout the entire product design process.
I used a workshop with stakeholders to create User Personas whit high-quality details, describing the context for each one and, showing problems and motivations from the User Research data collection.
Customer Journey
Each persona had a scenario identified focused on its goals and frustrations with the product as well as their interaction with it, which drastically affected my design decisions. Focussing especially on the interactional context of each persona helped me to define a user journey and an interaction flow. At this stage, I meet with the client and get documentation. We choose to analyse the As-Is experience and set up the opportunity for each of the stages, during a discovery workshop focussing on each persona we created.
This process has significantly influenced the development of important design decisions and key functionalities, analyzing the opportunity for each stage. (I choose only one of this User Journey to show here).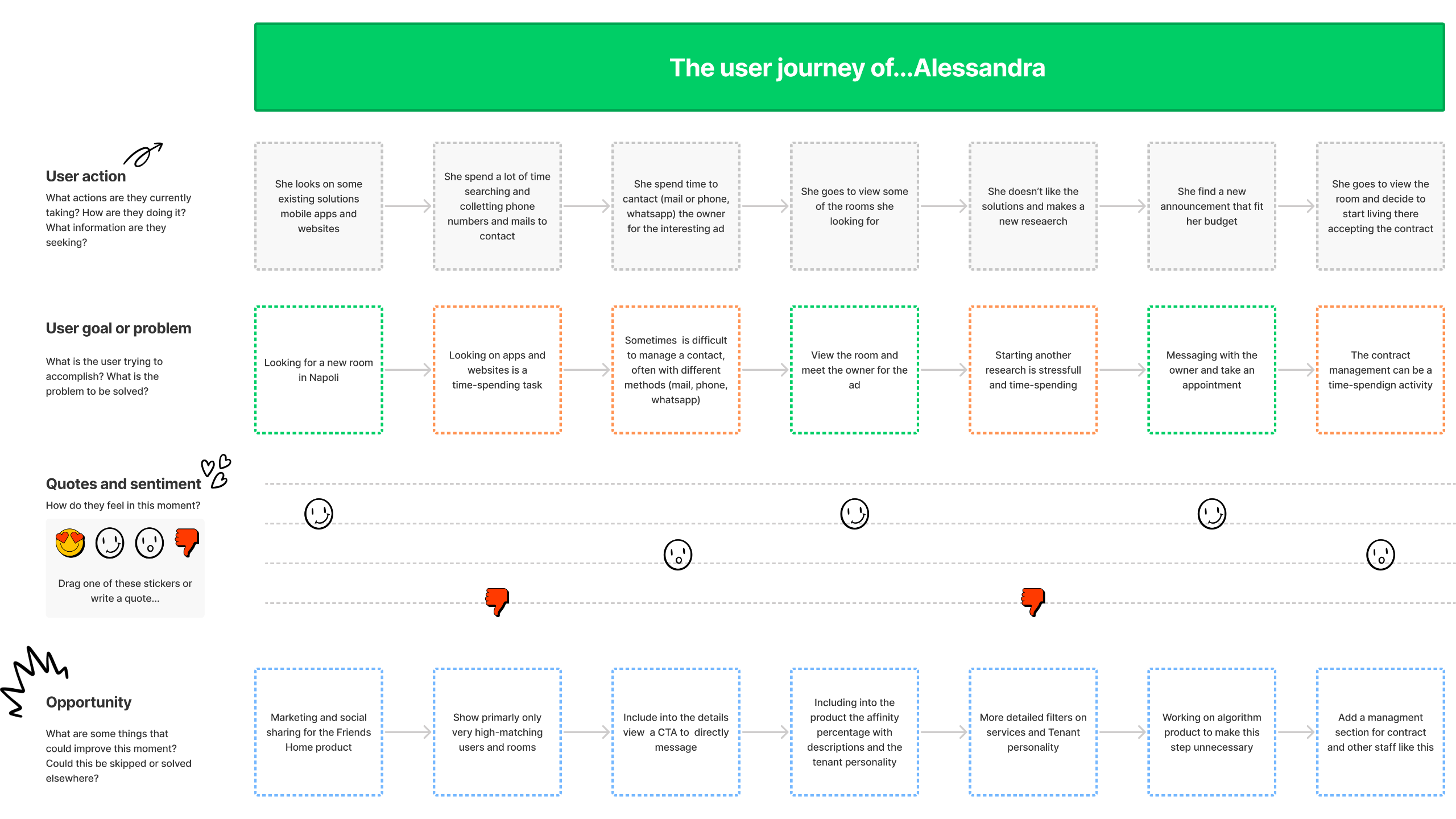 User stories and Flows
User research, persona creation, and Journey Definition brought up the user's main needs, goals, and behaviors and confirmed some of the primary assumptions.
This helped me to start with an MVP definition, working with User Story Mapping to define the features of the product. This helped me also to define a user flow chart to study the interaction and guide also the developers into the interaction logic. I've created a user flow diagram to map every step of the user interaction required to achieve the main goal of this app based on some user stories.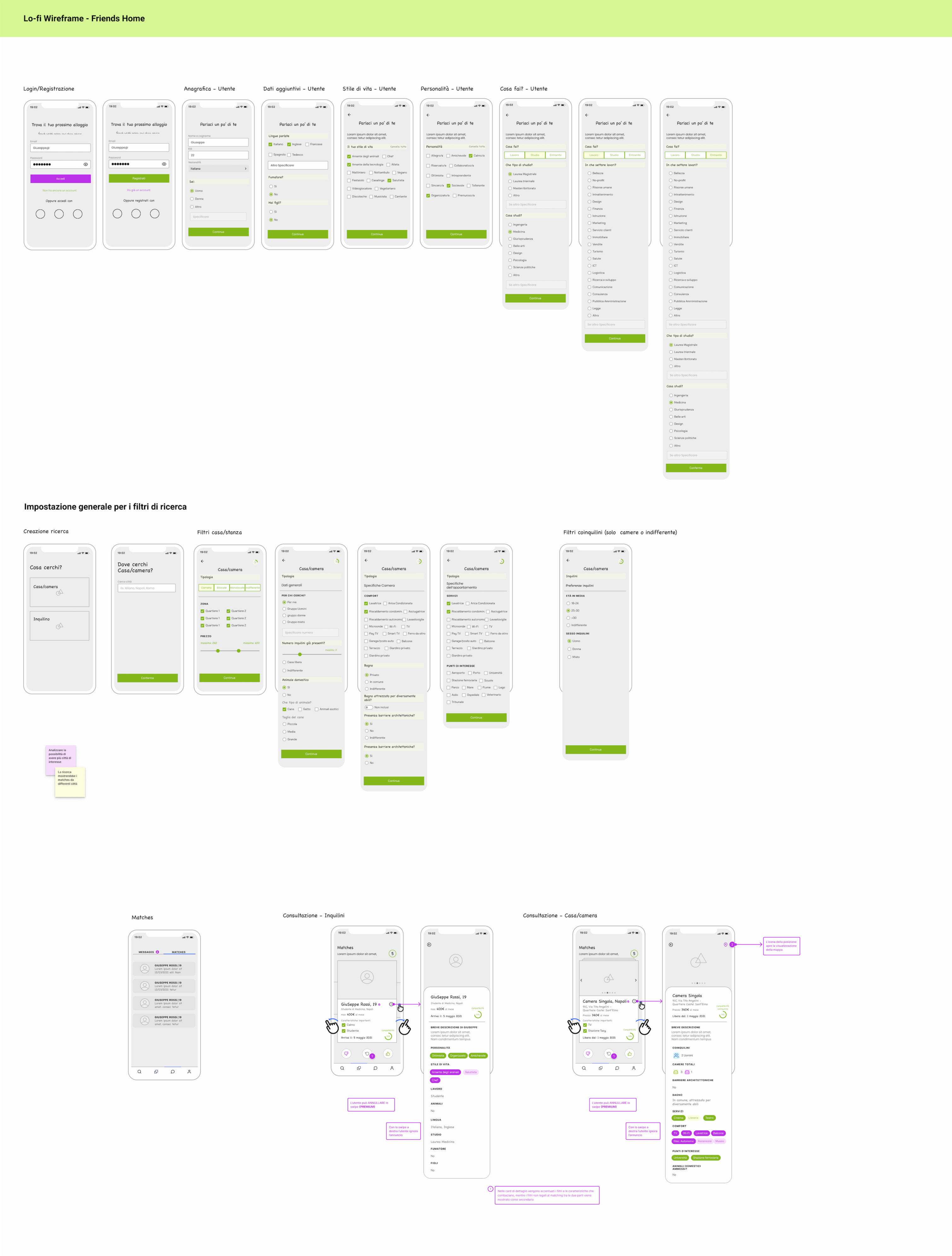 Wireframes
Low-fidelity Wireframes:
I sketched each idea and its iteration and added the elements and screens that were necessary to reach users' goals. Then I created some first digital Wireframes for an early test.
At the first concept, the stakeholders were asked to replicate the Tinder Experience for navigation about Ads and Tenants and use a similar algorithm.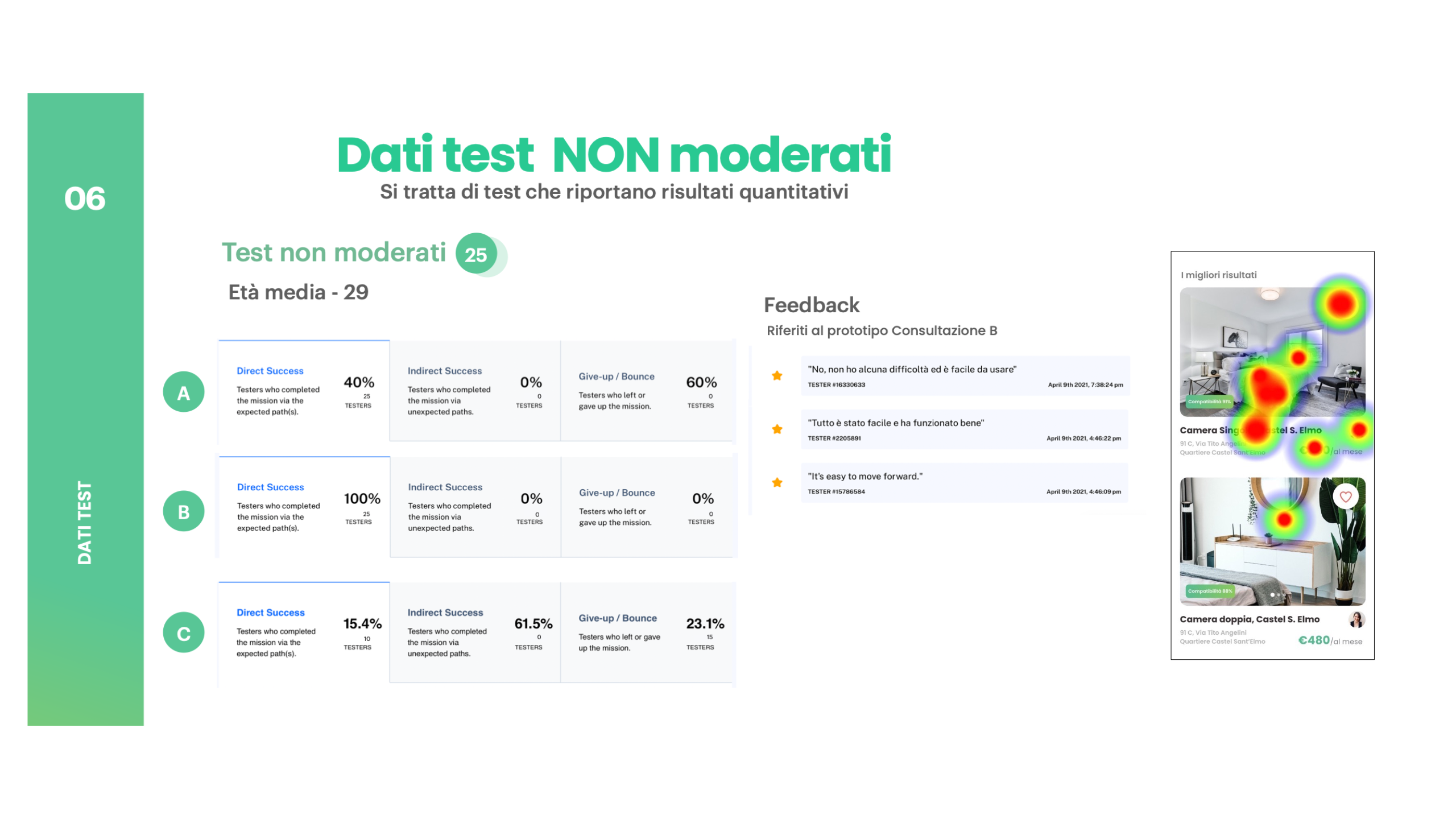 User Testing
I turned my sketches into a low-fidelity interactive prototype done with Adobe XD. I defined UI elements, design patterns, and visual hierarchy. I tested the prototype in person and remotely.
After a few more iterations, I designed the final screens with Adobe XD. I conducted A/B testings during the process to define the design pattern, elements, and colours. My aim was a clean, fresh look that helps users fulfil their goals quickly. "Friends Home" is focused on the colour scheme to help transmit trust, familiarity, and tranquillity.
I also designed the branding and logo guidelines to keep the look recognizable, and modern.
Interface design and identity

UI Design
Results
After the wireframe iteration, it's time to talk about the style tile and User Interface mockup definition.
Presenting the Style tile to the client with a little study of brand and tone of voice

Designing the User Interface solution to share early mockups

Designing a first UI focused Prototype to share with stakeholders and developers
What inspired you to use this style?

Did you follow any guidelines? (Material Design, iOS Styleguide, etc?)

What platforms did you design for?

Which details really fill you with pride?

How does your final design reflect your learnings about your users?

How does this design help achieve business or user goals?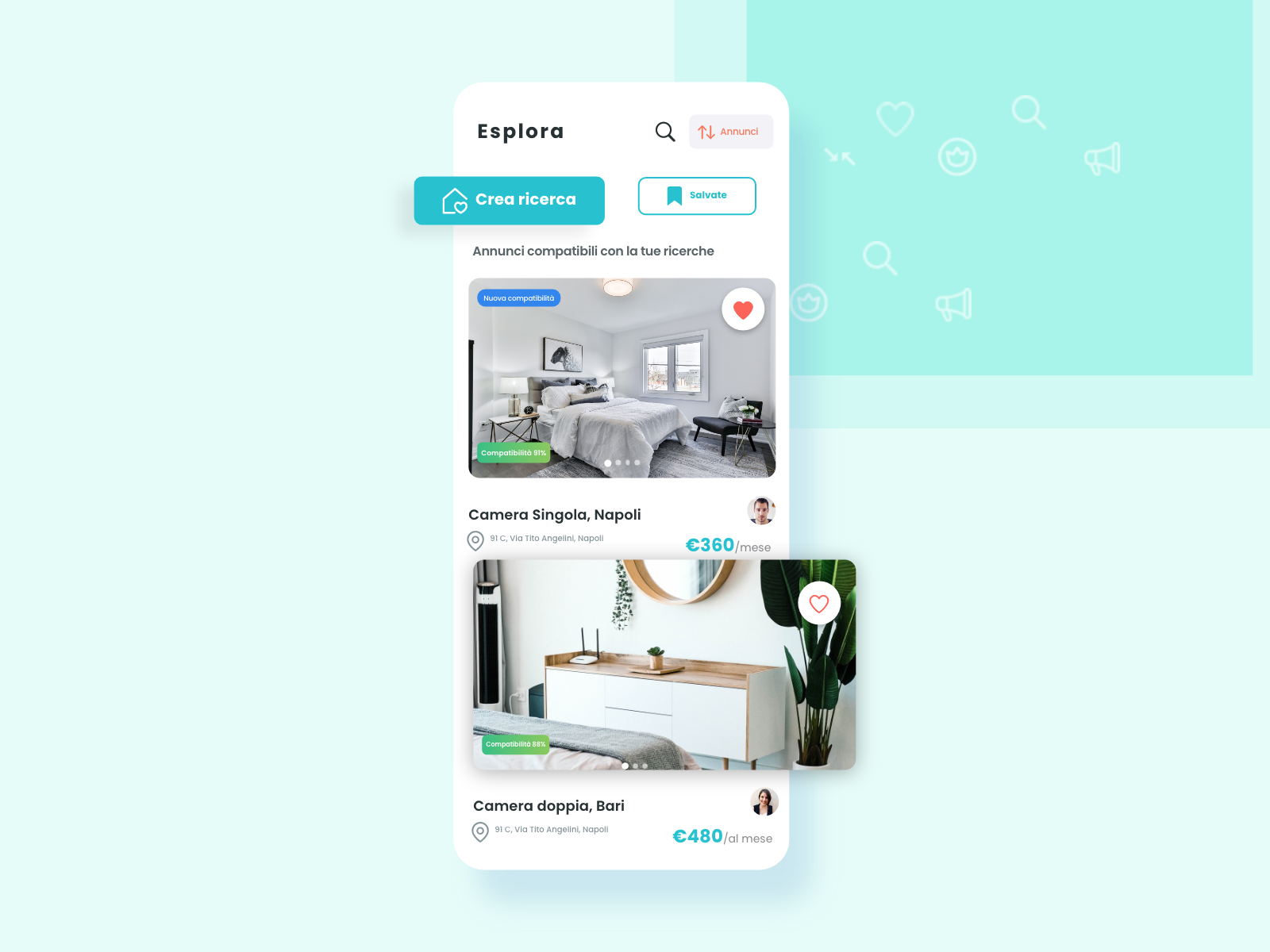 What I have learned from this project?
Research helps to define the user: – The user survey revealed and confirmed some assumptions and made it possible to adapt the product to users' needs.


Personas are powerful: – Being aware of users' needs and pain points helped me to create a seamless, end-to-end experience.


Test the UI and interaction with users: – Conducting user testing and collecting users feedback at various stages guided me to discover and eliminate pain points at early stages.
"Design for real needs. Design for users"